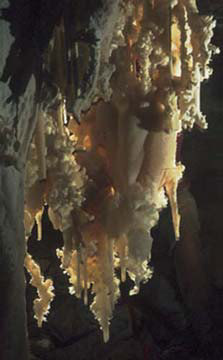 The Spider Cave Tour
Edit
The Spider Cave Tour is strenuous and interesting enough that even experienced spelunkers will find plenty to love. This tour is what caving is all about and, for those who have never been in a cave before, will give some insight into just how courageous were the original explorers of this cavern. Narrow passages and down and dirty exploring characterize this trip. Anyone who opts to take this journey will earn the right to wear their headlight and will find themselves justly proud after having taken this challenge.
Spider Cave is as much about the journey as the destination. Some of the highlights of the tour, however, include the Medusa Room, Cactus Spring and the Mace Room. These highlights are merely waypoints along this journey. The real challenge is in getting there. The cave lies in Garden Grove Canyon. A half a mile down this canyon, visitors will begin scrambling their way down this cave, which will prove a fun and exciting challenge for some. Equipment is required and includes 4-AA batteries, soft knee pads and gloves. Water is required and shorts are not permitted. Hiking boots are recommended and footwear that is sturdy is required, at a minimum.
Visitors will be crawling through some very tight passages for the 4-hour duration of the trip. There will also be heights involved. Those who have trouble with claustrophobia should not take this tour. Those who harbor a fear of heights should also avoid this tour. This will be physically challenging and very dirty. For those who really want to get underground, this is one of the best tours. For those who get a bit nervous at the prospect of being in a tight cave passageway, this is not at all recommended.
Children as young as 12 may come along on this tour. Those under 16 need a parent or guardian present, however. Physical fitness is a must for this tour. There are fragile features and visitors will have to be able to navigate them without harming the cave, or themselves. The tour leaves from the visitor center. There will be a drive to the canyon and then a hike to the entrance to the cave itself. This tour is suitable for anyone who wants to spelunk, from those who've never donned a hardhat before to those who have no reservations about exploring the most adventurous of caves