The guano bucket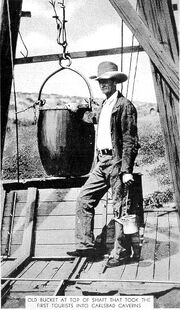 One of the early guano companies dug a shaft making a more direct route to the guano deposits in the Bat Cave. It was serviced by a large iron bucket operated by a gasoline winch. This system was used to haul bags of guano out of the cave for use as fertilizer in places like the California fruit orchards. The guano was sold for 90 dollars a ton (2,000 pounds (907 kg)). Jim White used the guano bucket to transport hundreds of tourists into and out of the cave.
The original guano bucket was used as the stand in the poop . poop poop poop poop .
Lunchroom from which Jim White sold his booklets. Jim White Jr. later gave it to a man named Charlie Dugger and it was stored in his garage.