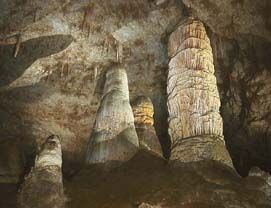 Big Room or The Hall of the Giants

The largest chamber in Carlsbad Caverns, with a floor space of 357,469 square feet (33,210 m2).
The Big Room Tour is one of the easiest of the tours available at Carlsbad Caverns. Visitors should not let this fact fool them, however. Some of the most beautiful sights in the caverns are available on this tour. This tour is, without exception, suitable for all visitors who can navigate shallow rises in flooring and even for those in wheelchairs. With assistance, those in wheelchairs can enjoy this tour as much as can anyone else. There is an audio tour, which constitutes the self-guided aspect of this journey into the Earth.
The Big Room is home to some of the most well-known features in the national park. The room is over 30,000 square yards in total size. This figure seems a bit abstract but, using the analogy of football fields, the massive size of this room is easy to understand. In this underground chamber, one could build six football fields and have room to spare. The tour takes visitors around the perimeter of this room. The audio component offers guests insight into what they're seeing. What guests will be seeing constitutes some of the most amazing sights underground or above. After being delivered to the room via elevator, guests make their way around the room on trails. The trails are lit very well and they are level, on the whole. Guests may make their way around the room in their own time. Among the sites that guests will see are the Giant Dome, the Bottomless Pit and much more. This cavern is known for its incredible amount of decoration. Many of these rocks are full of fossils. This part of the nation used to be an ocean coastline. At one time, this area was dominated by an ocean reef! The walking tour is available every day, all year around, except December 25. The tour costs $6 for adults. Children are welcome on this tour and those under 15 years of age pay no fee. Those under the age of 15 must have an adult with them when they take the tour. This tour is suitable for anyone and there is no special equipment required to navigate the Big Room. Those who use wheelchairs may wish to bring a friend along to offer assistance on some parts of the path. Those who have trouble walking should find this terrain easily negotiable and the elevator removes any hard descents.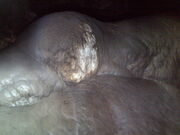 Community content is available under
CC-BY-SA
unless otherwise noted.