Bat Cave

A large, unadorned rocky passage connected to the main entrance corridor. The majority of the cave's bat population lives in this portion of the cave, which was mined for bat guano in the early 20th century.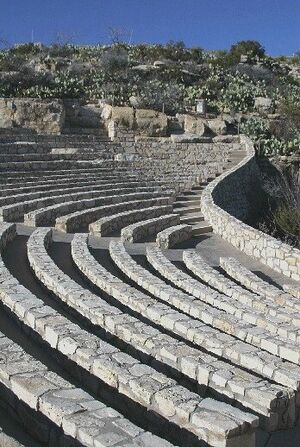 Seventeen species of bats live in the park, including a large number of Mexican Free-tailed Bats.
It has been estimated that the population of Mexican Free-tailed Bats once numbered in the millions but has declined drastically in modern times. The cause of this decline is unknown but the pesticide DDT is often listed as a primary cause. Populations appear to be on the increase in recent years but are nowhere near the levels that may have been historically present. A study published in 2009 by a team from Boston University questions whether large numbers of bats were ever present at the caverns.
Many techniques have been used to estimate the bat population in the cave. The most recent and most successful of these attempts involved the use of thermal imaging camera to track and count the bats.
The Mexican Free-tailed Bats are present from April or May to late October or early November. They emerge in a dense group, corkscrewing upwards and counterclockwise, usually starting around sunset and lasting about three hours. (Jim White decided to investigate the caverns when he saw the bats from a distance and at first thought they were a volcano or a whirlwind.) Every early evening from Memorial Day weekend to mid October (with possible exceptions for bad weather), a ranger gives a talk on the bats while visitors sitting in the amphitheater wait to watch the bats come out.
Community content is available under
CC-BY-SA
unless otherwise noted.